DOVECOTES TENANT MANAGEMENT ORGANISATION
 'From the past, looking into the future'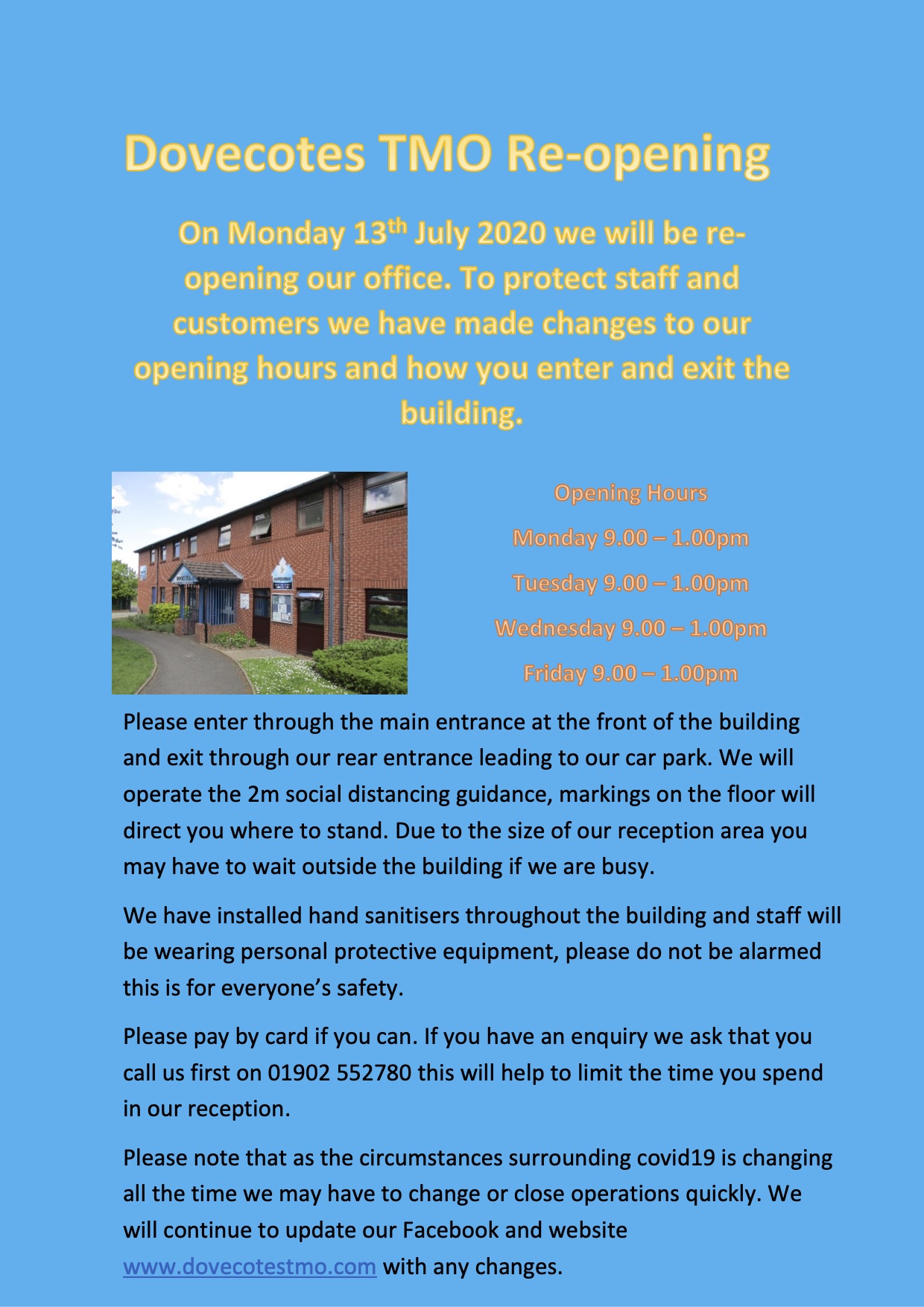 Dovecotes Tenant Management Organisation is tenant-controlled. We manage over 770 tenancies on behalf of the City of Wolverhampton Council. We employ 8 members of staff and are governed by a board of 10 voluntary directors. We provide tenancy management and maintenance services that are agreed with the council through our management agreement. Wolverhampton City Council retains ownership of the properties and tenants keep their secure tenancy. 
Under our management agreement responsibilities are delegated to the board of the TMO. Some responsibilities are retained by the City of Wolverhampton Council such as grounds maintenance and bin collections. 
Any person living at Dovecotes can be a member. Each year we meet with all our members at our Annual General Meeting and, every 5 years hold an estate wide continuation ballot. 
Dovecotes TMO is a private limited company by guarantee; a non profit organisation. We do not have shareholders or a share capital. 
Our mission is;
'By listening to our community and putting people first we will work together to make Dovecotes a better and safer place where people want to live'
UK Gov Scam Please be aware there are more scam text messages going around purporting to be from UKGOVthe below are examples of the messages being sent if you receive one please DO NOT open them or click on any links.'You have been out of your house 3 times today, you...
Dovecotes TMO is a Private Limited Company by guarantee; it has no shares, only members who can join, vote and stand for election as committee members. The management board comprises of seven tenants, two owner occupier and up to 4   co-opted representatives.
Dovecotes TMO is a company owned by its members, the tenants of the estate and is not-for-profit. Members are elected to the board each year in rotation in accordance with the company rules. 
We will maximise the resources available to provide a good management and maintenance service focusing on achieving value for money and resident satisfaction.
Our commitment is to achieve continuous improvement in the services we provide to the Dovecotes Estate.