WELCOME TO DOVECOTES TMO
Dovecotes Tenant Management Organisation (TMO) – Dovecotes TMO is an established Tenant Management Organisation. We have existed since 2006 after a successful ballot of the tenants of the estate, and have been managing the council housing in this area of Pendeford for 13 successful years
REPORT A REPAIR
TENANCIES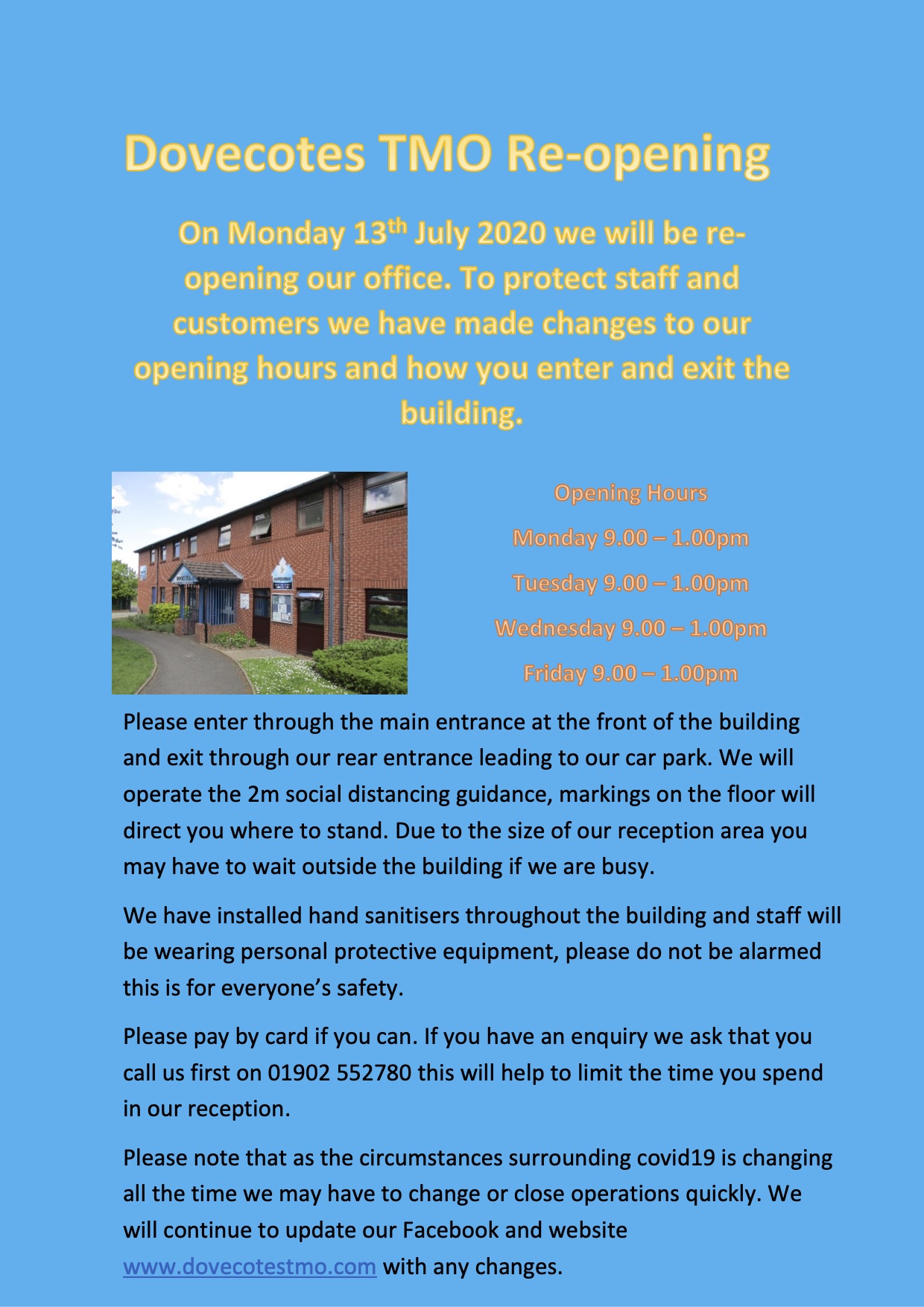 Tenant Management Organisation? – Tenant Management Organisations (TMOs) are tenant-controlled organisations, which provide a varying range of management and maintenance services to tenants under a Management Agreement with their landlord. The City of Wolverhampton Council still owns the property and tenants keep their secure tenancy.
Dovecotes TMO has a Management Agreement with the City of Wolverhampton Council. Under this agreement management and maintenance responsibilities are delegated to the Board of the TMO. Certain responsibilities will remain with the City of Wolverhampton Council. These are set out under the summary of the provisions of the Management Agreement. However there may be some services provided to the TMO by the City of Wolverhampton Council or Wolverhampton Homes such as grounds maintenance and bin collections.
This week we all entered a new phase of lockdown and the restrictions put in place to protect the NHS and save lives. Despite our eagerness to reopen the office our approach to the situation has not changed. Staff will continue to work from home providing services...
COMPANY LIMITED BY GUARANTEE
Dovecotes TMO is a Company limited by guarantee, it has no shares only members who can join, vote and stand for election as committee members. This comprises of seven tenants and two owner occupier representatives.
This is a company owned by its members, the tenants of the estate and is not-for-profit organisation. Members are elected to the board each year in rotation in accordance with the company rules.
Dovecotes Tenant Management Organisation – Our mission "By listening to our community and putting people first, we will work together, to make Dovecotes a better and safer place – where people want to live".
We will maximise the resources available to provide a good management and maintenance service and a focus on achieving value for money and resident satisfaction.
Our commitment is to achieve continuous improvement to the services we provide on the Dovecotes Estate.